Our Nitrile medical examination gloves comply with the requirements of the US Food and Drug Administration (FDA), and European Commission Medical Device Directives MDD 93/42/EEC.
Safeguarding healthcare professionals in the workplace from blood borne pathogens and toxic chemical hazards is what Medisafe does best. Our extensive Nitrile product offering has a glove to meet most medical tasks where barrier protection is a must, whether from the risks you see or the ones you don't.
Nitrile is the preferred non-latex glove choice for: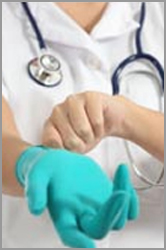 Hospitals
Physician/Clinics
Dentists
Emergency Medical Services/First Responders
Laboratories
High Risk
Oncology Clinics
Veterinarians
If versatility and value are what you are looking for, then Nitrile can't be beat. See our extensive product offering.